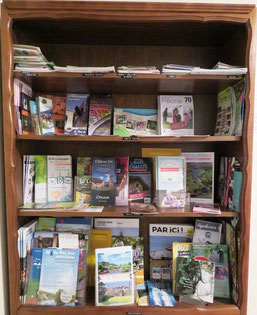 Tourist information on the Haute-Saône, but also on neighbouring departments is available in the kitchen, but also in the lounge on the ground floor.
There are also many leaflets on walking and cycling routes.
We will be happy to provide you with information.
And also brochures, maps.... to download HERE from the Destination70 website
---
In and around Liévans:
Of course our natural vegetable garden, orchard with mostly newly planted trees and small fruits.
Organic sheep cheese and yoghurt at the Bergerie de Liévans
Sales of organic market garden plants and flowers at Serre d'Avenir in Liévans
Cheeses and dairy products at the Ferme de la Fontaine in Mollans
Miellerie des 4 Fontaines in Oppenans
Vegetable farming, organic Velay black sheep at the Roulotte du Berger 
Velleminfroy mineral water in Velleminfroy
Nursery, plants, fruit and vegetables at Le Bois Fleuri in Vy-lès-Lure
Organic potatoes, flour, sunflower oil, cakes at Gaec Goiset in Dampvalley-lès-Colombe
And of course the Kirsch of Fougerolles from Devoille, Peureux and the Cancoillotte!
Esprit paysan producer shops in Vesoul and Froideconche (next to Luxeuil)
Vesoul market on Thursday and Saturday mornings with many local producers
Villersexel market on the 1st and 3rd Wednesday of the month
Lure market on Tuesday morning
And many more!
---
Nature lovers, it is omnipresent around us, rich in biodiversity. We are also an LPO (League for the Protection of Birds) Refuge, nesting boxes and feeders.... Around sixty species of birds are listed in Liévans by the LPO. Binoculars are available on request.
Relax, read, have coffee or a meal in the garden. Discover our vegetable garden and garden.
Stroke our donkeys. Meet the cows in the meadows. Discover the tracks of wild animals such as foxes, badgers, wild boars, roe deer and birds.... 
Badminton rackets, frisbee, beach rackets...  There is a playground in the village.
Walks and hikes on the spot or a few kilometres away, and of course further afield on the plateau of 1000 ponds and in the Vosges mountains for example.
Haute-Saône is a land of cycling, cycle tourism and mountain biking.  Two mountain bikes are at your disposal. It is possible to hire electrically assisted bikes at the Luxeuil-Vosges-du-Sud Tourist Office.  The loop n°18, of the Monts de l'Ognon which is 40 km long, passes in front of us. And many others here and there. We can also compose some together according to your desires.
Canoeing down the Ognon at the Villersexel leisure centre. Accrobranche, leisure park for children not far away.
Swimming at the Bonnal leisure centre and at the Dampierre sur Linotte aquatic complex. And unsupervised swimming in the Ognon at Longevelle. There is also the leisure and water sports centre at Les Salines in Lure, as well as the Vaivre lake near Vesoul.
Snowshoeing and cross-country skiing are possible in Saint-Bresson. And of course in the Vosges with downhill skiing as well. Snowshoes are available at our place.
Horse riding is possible in Villersexel. Tennis courts in Villersexel.
For golf enthusiasts, there is the Luxeuil golf course in Genevrey. 
Fishing: The Haute-Saône is a fisherman's paradise.
Paragliding take-off area at Autrey-les-Cerre, 5 minutes from the house.
Of course, the thermal baths of Luxeuil-les-bains!
---
You will be able to discover the neighbouring villages and their life, their architecture, their history, including Montjustin, but also the towns of Villersexel, Luxeuil, Vesoul... and further afield...
In the villages there are often numerous fountains and wash houses, particularly in Noroy-le-Bourg, Mollans, Cerre-lès-Noroy and Esprels
The castle of Oricourt, the priory of Marast, the old abbey of Bithaine, the castle of Villersexel and that of Vallerois-le-bois, the church of Cerre-lès-Noroy, the chapel of Saint-Igny.
The "Chemin du Tacot" in Cerre-lès-Noroy and Noroy-le-Bourg. The Tacot station in Cerre-lès-Noroy.
The dolmen at Aillevans
The bell towers of the Comtois are numerous.
A little further on:
The Notre Dame du Haut chapel in Ronchamp. Built by Le Corbusier. World Heritage Site
---
Local landscape circuit
Dry grasslands and discovery circuit of Champfleurey in Noroy-le-Bourg
La Cude English park in Mailleroncourt-Charette
Plateau des 1000 étangs
Cherry trees at Fougerolles
Animal park in Saint-Valbert
etc...
---
Festival Musique et mémoire Vosges du Sud in July
Festival Les Pluralies in Luxeuil in July
Jazz Festival at the castle of Oricourt in September
Concerts at the priory of Marast from May to September
International Festival of Asian Cinema in Vesoul in February
Numerous concerts and cultural events everywhere
Night markets in Luxeuil on Tuesday evening and Friday evening in Vesoul all summer.
Numerous events all over the towns and villages to be found in the agendas of the tourist offices.